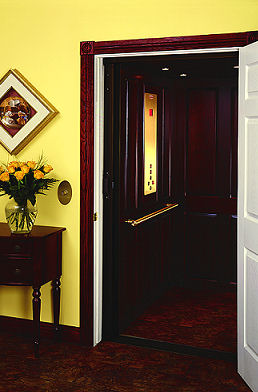 Your home. Your choice. Elevator Solutions will assist you each step of the way towards a well informed decision, whether you are beginning construction, remodeling, or planning for your long term needs. We represent the industry's leading manufacturers including Stiltz, Savaria, Canton Elevators, Harmar (Summit) Lifts, Waupaca, National Wheel-O-Vator and Inclinator and can guide you to the best elevator suited to your needs. Whether you desire a fully customized cab to blend seamlessly into your design scheme or a basic utilitarian model for the most cost effective solution, Elevator Solutions will make sure your elevator is the right one for your project.
Our certified technicians are manufacturer-trained to install numerous state of the art drive systems including Counterweight chain/Traction, Gearless, Roped Hydraulic, and Winding Drum, giving you the flexibility to choose the optimum system, while providing a safe, comfortable and secure ride.
Installing a residential elevator will not only add function and ease of accessibility to your home, but with the myriad of aesthetic options available, it will certainly add value and complement any home decor. Hand-crafted wood interiors are available in such beautiful materials as birch, maple, cherry, hickory and oak, as well as a variety of styles and finishes. Let Elevator Solutions be your guide from planning to final installation of a beautiful new elevator, expanding form and functionality for your home.
We offer Stiltz residential elevators - The Stiltz Lift is a totally unique residential elevator and can be fitted virtually anywhere in the home. With no hydraulics or load bearing walls required, our home elevators are powered by an intelligent electric motor drive system and dual rail supports - offering unrivalled flexibility in terms of placement. Click here to view a Stiltz video