Welcome to Elevator Solutions
Elevator Solutions is a centrally located Florida elevator company providing complete residential and commercial project sales, installation and service wherever your needs may be. Our service area covers all of Central Florida and beyond, including Tampa, Sarasota, Winter Haven, Melbourne, Daytona Beach, Jacksonville, Orlando, Lake Mary and Gainesville. Our factory trained and state certified technicians service and repair several nationally known manufacturers' product lines, including Savaria Lifts and Canton Elevators. We offer a wide range of residential and light commercial elevators, dumbwaiters and stairlifts, as well as vertical and inclined platform lifts.
If you have a new project and aren't sure of what equipment will best fit your needs, give us a call. We have years of construction and installation experience coupled with a diligent work ethic to get you the best elevator, lift or stairlift for your particular situation at a reasonable cost. From project concept to final turn over to the customer, Elevator Solutions, Inc. will be a responsive partner to your requirements.
Residential Elevators
Installing an elevator in your home is a project with myriad decisions to be made; which manufacturer, model, type of drive system, and interior finish all need to be determined. Our sales team can help you sort through all these important details, ensuring that the elevator project will
be successful.

Learn more »
Commercial, LU/LA Elevators
Specializing in relatively small projects less than 5 stories, Elevator Solutions has the right solution for your customer's accessibility issues. As we represent several leading manufacturers of highly reliable commercial and LU/LA - limited use/limited application – elevators, we can source and install the most efficient and economical unit for your building.

Learn more »
Platform Lifts
Conforming to ANSI A18.1 guidelines and ADA requirements, our commercial grade platform lifts provide a safe and reliable access for the public, both indoors and outdoors. Offering both vertical and incline designs, these wheelchair lifts are custom manufactured for your specific project or renovation.

Learn more »

Dumbwaiters and Stairlifts
Dumbwaiters are a handy solution for moving up to 750 lbs of materials and goods in a multilevel residential or commercial environment. Save time and energy by installing a dumbwaiter to move those necessary items easily. Learn more »

Stairlifts can give you the mobility you need in your home. Installed easily without changing or damaging your existing staircase, a stairlift is a practical solution to life's changing requirements. Learn more »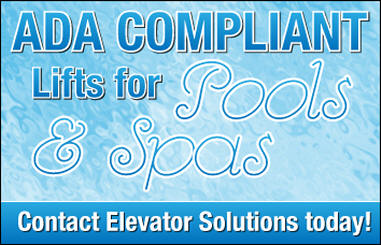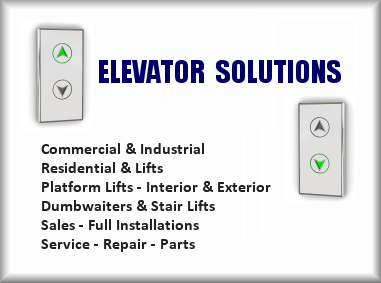 Contact Elevator Solutions today for all of
your Elevator, Platform Lifts, Dumbwaiter
and Stair Lift needs. Contact Us.